The news is out, FoxMind's latest in-house game just won its first award!
Go PoP! Presto, FoxMind's award winning game, has been named among the best in family-friendly media, products, and services by the Mom's Choice Awards® 2021.
This party/family game revolves around Bubblo, the cute bubble character from the Go PoP line. Recommended for kid ages 6 and up, you can play from 2 to 4 people in less than 15 min.
The rules are simple
Flip a card
Pop the bubbles as as as you can to complete the challenge on the card.
Be the first to tap Bubblo and WIN the card!
Here the catch, you can use only ONE finger

But be careful! If you tap Bubblo but you did not complete the challenge correctly, you LOSE a card! The first player to win 6 challenge cards wins the game.
Parents will appreciate that Go Pop! Presto challenges improve developmental skills, too. Finger cards improve hand-eye coordination, pattern cards encourage pattern recognition and observation skills, number cards improve counting skills, and POP cards require quick reflexes. – The Toy Insider, 2022.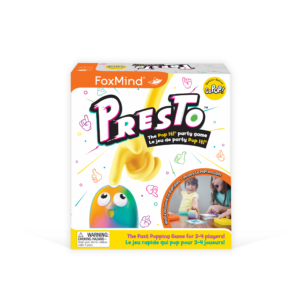 This game is truly a favorite of ours, and the award is just a clear confirmation of how good it is!
Available now for 24.99$ on Amazon and at Barnes & Nobles