Sports Dice Football
Game story
Roll into the action in this easy to learn and quick to play dice game for 2 or 4 players. Sports Dice Football includes all the drama of a real game. Go for it on 4th down and reach the end zone to score a touchdown. Then try to stop the opposing team by sacking their quarterback. SPORTS DICE FOOTBALL IS THE PERFECT GAME FOR ALL FOOTBALL ENTHUSIASTS AGES 7 AND UP!
You may also enjoy these games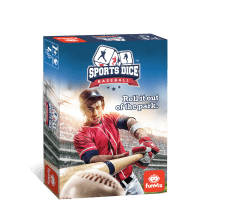 Square off in an epic batter-pitcher dice duel! Sports Dice Baseball is a fast paced and easy game to play!