Slam Dice – Bluff
Players
Minutes
Abilities
Fine Motor Skills, Math, Social Interaction
Product ID
FOX-SLAMBLUFF-ENG
See where you can buy it
Game story
The ultimate game of bluff or luck!
Shake the cup, slam it shut and declare the number you've rolled. Pass the cup to the next player who must roll a higher number or risk losing a life. Did your opponent roll higher or are they trying to bluff their way out? Part of our Slam Dice line, this game is highly portable for fun anywhere.
What's inside the box
1
Silicon cup with 2 dice
You may also enjoy these games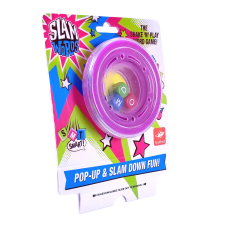 Slam Words is the fastest word search game ever!